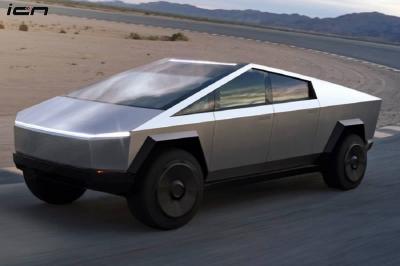 Tesla Cybertruck will surely be one of the biggest global automobile product debuts of this year. According to a fresh media report, the futuristic pickup truck might be unveiled in its production avatar during a special event that will be held in March 2022. The automaker might showcase two versions – smaller and bigger – with 'significant tweaks' compared to its concept.
Trip Chowdhry, an analyst with Global Equities Research (aka Tesla bull), predicts that the Cybertruck will have two versions matching the size of vehicle's alpha prototypes and another one will be around 15-20% smaller. He also said that the final models will witness noticeable changes over the initial design. One must note that there is no official word on the smaller Cybertruck. Though, CEO Elon Musk at one point said that the smaller Cyberturck will make lot of sense for Tesla.
If reports are to be believed, the Tesla Cybertruck might enter into production towards the end of this year and its deliveries will begin in early 2023. The electric pickup truck will be manufactured at the company's Texas based Gigafactory.
Earlier, the automaker revealed that the Cybertruck will come with three powertrain options – one, two and three electric motors. The single motor, RWD version is claimed to do 0 to 60mph in 6.5 seconds and offers a range of 250 miles. The company hasn't yet revealed the battery size. It's capable to tow 3400kg and has a 1360kg payload. The range-topping tri-motor 'Plaid' EV powertrain can accelerate from 0 to 60mph in 2.9 seconds and deliver a claimed range of 500 mile. Its towing capacity stands at 6350kg.
The Tesla Cyberturck has angular body that said to be made up of "ultra-hard 30X cold-rolled stainless steel". It's claimed to bulletproof for up to 9mm rounds. The electric pickup truck has a load bay of 6.5 ft long and a raisable cover. Tesla claims that the vehicle offers over 2800 litres of lockable storage space.