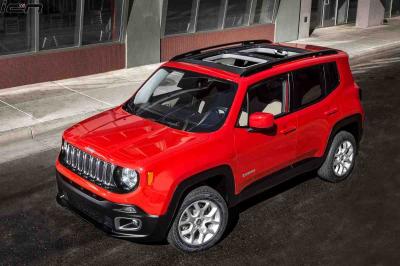 Jeep has recently unveiled its first pure electric compact SUV, called the Jeep Avenger. This compact SUV is slated to be launched in the early next year. It will also receive an ICE version, which is also expected to be launched in our market in 2023-24. A new media report claims that the American SUV maker is working on the new gen Jeep Renegade SUV, which will be based on the new platform.
The report claims that the production of the new gen Jeep Renegade will move our from Goiana (PE). This production line will be used to develop new products on the Small Wide 4×4 platform such as the new Ram pickup, and a future Fiat SUV. The new Renegade will be based on a new and modern platform.
The new gen Jeep Renegade is reportedly to be based on the SLTA small platform, which is basically the modernised version of the e-CMP platform. The e-CMP or CMP platform currently underpins multiple Stellantis platforms including the Citroen C3 and the new Jeep Avenger. It is reported that the next generation Renegade will be launched sometime in 2025.
The Renegade is the brand's global product and is produced at multiple places. The new gen model will most likely to be revealed in Europe. Based on the new platform, the new Jeep Renegade will come with electric and hybrid powertrains. The new model is also likely to grow in size and will challenge the likes of the Honda HR-V and the Hyundai Creta.
Jeep will launch the ICE version of the Avenger compact SUV in the Indian market. It is also expected that the next-gen Renegade could also make its way to our market. Jeep's production platform in India could act as an export hub for right hand drive markets.